Almost 40% of visitors bounce if your website takes more than 5 seconds to load, and every second of delay causes a nearly 10% drop in conversions. On top of that, 1 in 4 visitors will leave and never come back after one failed web transaction. If you think these stats do not involve you because your website is fast and reliable, consider studies done by Unbounce. The team has found out that only 15% of websites operate at an acceptable speed and standards established by Google. Therefore, chances are your website is one of those that drag behind and lose customers every day.
The target market expects from your website fast connection, instant response, and smooth, flawless interaction. In today's world, speed is everything, and delays and failures are unacceptable.
However, the sad truth is, your website experiences regular outages and components failures, and you might not even know about them. You will be surprised to know that your website's availability is far from being perfect (100%), which means that not only do you lose money and scare visitors away by being inaccessible, but you also miss opportunities to generate extra revenue during high-peak hours that are infamous for downtime.
The best practice is to monitor website uptime to get valuable information about your website's performance to introduce improvements and, most importantly, get a chance to fix delays in time, keeping your customers happy.
Let's find out what site uptime is, why it is important and what tools you can use to monitor it.
What Is Website Uptime?
Website uptime (also known as website availability) is a period of time when the web platform is unhindered available for online visitors. During this period, users can access the site and use its utilities.
Online Email Template Builder
With Postcards you can create and edit email templates online without any coding skills! Includes more than 100 components to help you create custom emails templates faster than ever before.
Try FreeOther Products
As a rule, site uptime is presented as a percentage – it is a ratio of the available time to the total time. While you may expect it to be 100%, this is impossible. The deal is, whatever powerful server can be, it still cannot guarantee 100% availability for its "households."
Why Do Websites Experience Downtime?
There are many reasons for downtime occurrence, both unexpected and planned, for instance:
It can be a technical failure.
It can be a system failure.
It can be code issues.
It can be an additional load and heavier traffic on the server, like during official holiday seasons, including the biggest shopping event, Black Friday, and Cyber Monday.
It can be a machine adjustment.
It can be regular maintenance.
It can be human errors.
It can be hacker attacks.
It can be natural disasters.
It can be unexpected events like an electrical blowout.
Therefore, every website experiences downtime. As a result, hosting providers consider 99.999% uptime( that translates into 5.26 minutes of downtime per year) as a goal that everyone should strain after. By the way, Google is one of those several companies that are managed to hit this deadline. As for everyone else, this is almost impossible; therefore, hosting providers try to ensure 99.99% uptime (though in reality, it can be much less), which means that your website will be unavailable for only 1 hour during a year.
It is also crucial to note that this ratio reflects only website availability ensured by the server machine. That means it only considers the time when the server returns status code 200 OK for the website, and it does not consider other factors such as the failure of functions and performance of the web platform itself. For instance, you may host images on other servers or use plugins and components hosted by other computers, thereby drastically increasing downtime that may ruin the user experience and leave a bad aftertaste.
Speaking of ruining user experience and long-lasting wrong impressions, extended downtime may cause lots of inconveniences for your users and cause problems for running your business smoothly by tarnishing your reputation and shattering your revenue. Let's consider some strong reasons why it is important to monitor site uptime to deal with those unexpected downtimes on time.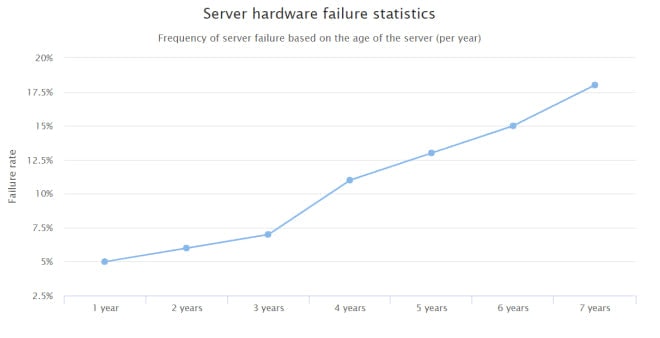 Server hardware failure statistics
Why Should You Monitor Website Uptime?
Do you know that it is customary to mention a percentage value of uptime in service level agreements? Due to this custom, AT&T had to refund more than 6,000 customer accounts in the late '90s, costing the company millions of dollars. A decade later, Xbox Live experienced thirteen days outage that set the company back a staggering sum of millions of dollars. There are many other similar stories out there.
Downtime can be a costly thing, because like it or not but not only should you make amends for the service issues by, for example sending apologetic notes, but you should also compensate it with your money.
On top of that, uptime provided by the hosting service is a subjective term whose percentage value is often inaccurate. Consider these scenarios taken from real-life situations:
Limited availability, which implies that the server experiences heavy traffic and detours users to the apology page, is considered the uptime. Technically speaking website is available, even though it does not provide an expected level of user experience and does not meet the declared standards.
Poor performance, which implies low speed for a website, is also uptime because the page does not return errors and time out.
Missing functionality, which implies when one or several functions do not work on a website, is also considered uptime.
The scheduled outages, which imply the actual inaccessibility of a website due to planned maintenance of the server, are excluded from the total time, thereby messing up the data and final result.
However, is downtime so crucial for your business? Let's consider the consequences that it may bring to your business.
How Does Downtime Impact Business?
You Lose Money
With downtime, however short, you will suffer some form of monetary loss.
When your website is not accessible, your sales and current transactions come to a halt, regardless of whether you have a digital shop or SaaS platform. If people cannot buy products, order services, or hit the checkout button, they will leave, and some of them will never come back.
You Lose Customers
No one likes websites with sluggish performance, missing functionality, or colossal loading time. Consider these stats:
More than 70% of customers said that page speed impacts their decision to buy from the company.
The more people have to wait for the page to load, the more of them will bounce.
Almost 90% of customers said they would not return to the website with a bad user experience.
To make matters worse, the market is oversaturated: there is always an alternative to your business. Your target audience does not need any solid reason for never coming back after downtime.
Therefore, first-time buyers will just leave and never come back, whereas loyal customers, who are the lifeblood of every business, will start to doubt their choices and eventually move on to your competitor because their loyalty takes a hit every time they experience downtime.
Ruin Your Reputation
Downtime hurts credibility and trustworthiness that are the main pillars of reputation.
Today's market expects from brands a certain level of quality. If you cannot meet these expectations, then you are out of the game.
The user experience has a significant impact on how people feel about your business. It affects all the campaigns and strategies both online and offline, thereby damaging the company's perception across the board.
Lose Positions in Search Engines
Google punishes websites for low speed and poor performance. Although this does not trigger the Google penalty, this certainly downgrades your positions because downtime is crucial in ranking. That leads to less organic traffic and fewer conversions.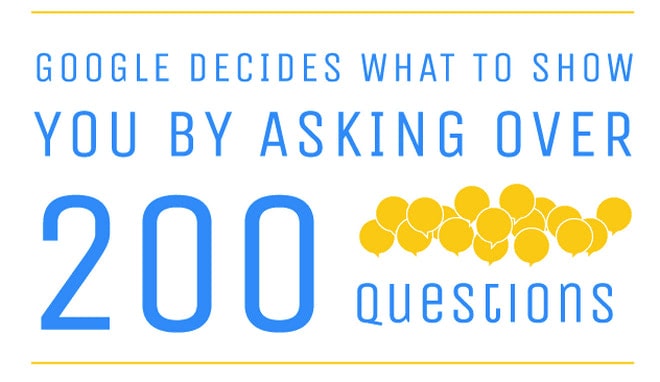 Snippet from infographic "How Google Works?"
Should You Monitor Site Uptime?
You should monitor site uptime to avoid all those consequences that we have mentioned above. However, that's not all; with constant tracking of site availability and fixing problems on time, you may keep customers happy and meet the target market's expectations, thereby bringing to your business some considerable benefits. For instance:
Maintain trust and loyalty.
Increase trust and loyalty by providing customized status pages.
Avoid money loss.
Generate extra revenue.
Ensure excellent user experience.
Get higher ranks in search results, thereby increasing your online visibility.
Generate more traffic.
Get the most out of peak hours.
Enhance reputation.
Improve brand identity.
Keep visitors happy.
Win over new clients.
Detect hackers attack fast.
Protect your site from cyber threats.
Measure the reliability and stability of the system.
Get insights into your hosting provider's performance.
In a word, monitoring the site's uptime keeps your website up and running and preserves good relationships with the customers securing a fine reputation for the brand.
How Do You Monitor Website Uptime?
Since no one is safe from downtime, it is highly recommended that every business monitor the site. How to do this? Simple. Just check your website every single minute to see whether it works or not. Not only should it load fast, but also all the components should work as intended. You should be able to conduct a search, hit buttons, move through slides, use a shopping cart, etc. On top of that, you need to check the website from various locations.
If you have a huge company, you may create a department for that. This team should send requests to a resource to see if it responds and interact with the components to see whether they are fine.
However, if you run a small- or medium-sized business, a non-profit organization, or a personal blog, this approach is not feasible since you do not have so much time; and there is a big chance that you miss out on some crucial details.
More so, the manual approach considers to be hectic, tiring, time-consuming, and at some point irrational. Therefore, it is advisable to use site tracking services that do all the heavy lifting. They automatically ping resources, interact with components faking human behavior, check protocols, provide thorough reports, and send notifications to the owner.
Benefits of Automatic Uptime Monitoring
Uptime monitoring services are your online security guards that provide an extra layer of defense for your system by catching suspicious activity in your system and the unintended behavior of your website. They offer numerous benefits in the financial and efficiency aspects. Let's consider some of their features to unveil their potential:
They have numerous monitors that give you a complete picture of website performance.
They give insights into how your website performs in different countries.
They monitor the speed of different pages to give you hints on what should be improved.
They send a quick notification when something is wrong with the website or any service or component.
They send alerts when the hardware fails.
They notify you when you need to get your site back on track.
They help to understand the server's performance and effectiveness of your hosting provider.
They provide a detailed report covering such crucial factors as response time, browser and geography metrics.
They can reach you through various means of communication.
They can even alert your customers.
Although automatic uptime monitoring services may require you to invest some money, they have a positive ROI from short-term and long-term perspectives.
Best Services to Monitor Website Uptime
Since the web is teeming with online services to monitor the site's uptime (according to a recent study, there are more than 100 of them in the wild), it is vital to find a service that meets your particular needs and goals not to overpay.
The thing to remember is that you should have the ability to check HTTP(S), DNS, SSL, and domain expiry, ensuring that essential infrastructure is performing as it should. On top of that, you may want to check the validity of such protocols like SIP, TCP, FTP, PING, and UDP.
Let's consider the ten best online services that do all of these and even more.
Pulsetic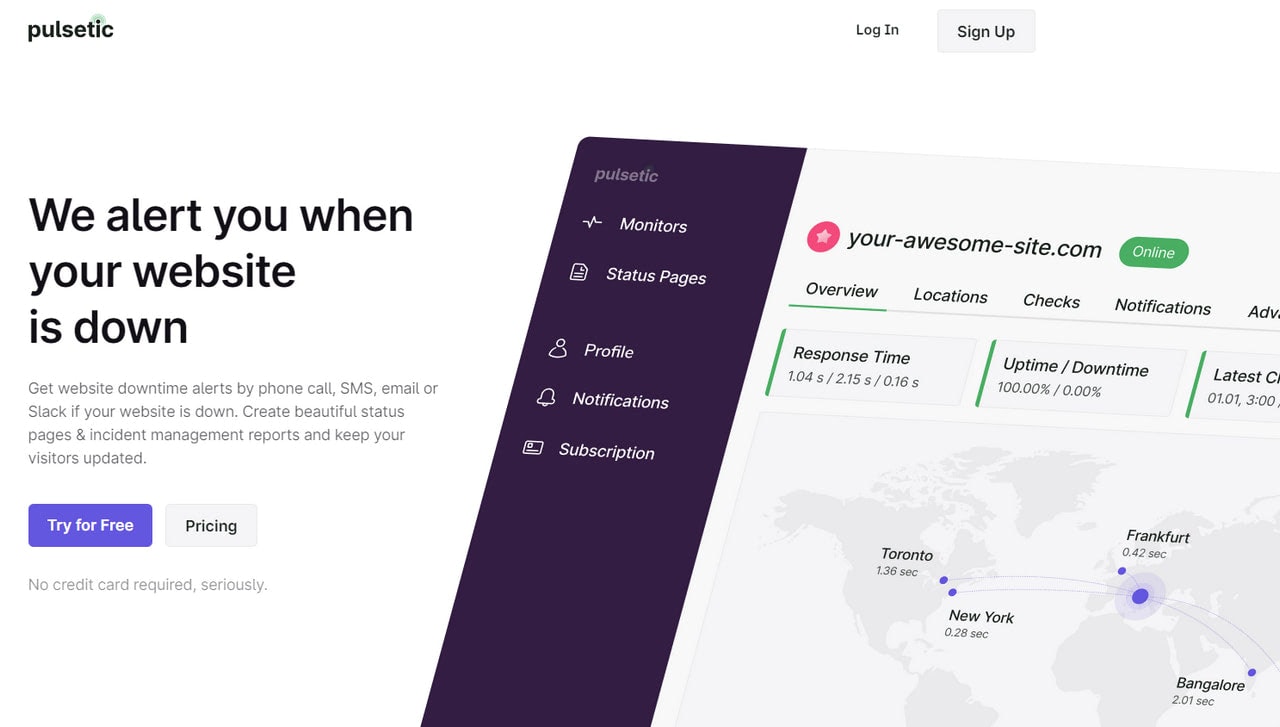 Pulsetic's key feature is that it gets down to business right away and ditches all hustle and bustle that can be confusing for people by providing only essential functionality that is crucial to monitor site uptime. It is client-centric and increasingly user-friendly: you do not need a tech specialist to monitor your site. The platform has an intuitive interface that anyone can handle.
In addition, it has such unique features as subscribers' notifications and the generation of beautiful status pages that give you a golden opportunity to keep your clients informed, thereby avoiding confusion and disappointment.
Among its main features are:
Site uptime monitor.
Website speed monitor.
Complete reports that include detailed information about every request.
Full request customization.
Regions check.
Email, Slack, Telegram, Webhook, SMS alerts.
Voice calls.
Integration with Twilio and SIGNL4.
Status pages.
Status pages for incident updates.
Subscribers notification.
Teammate collaboration.
The best part is a free plan that offers all the necessary features to monitor your website so you can get started right away.
As for premium plans, they are pocket-friendly, so you can level up your game whenever you are ready without flattening your wallet.
Pingdom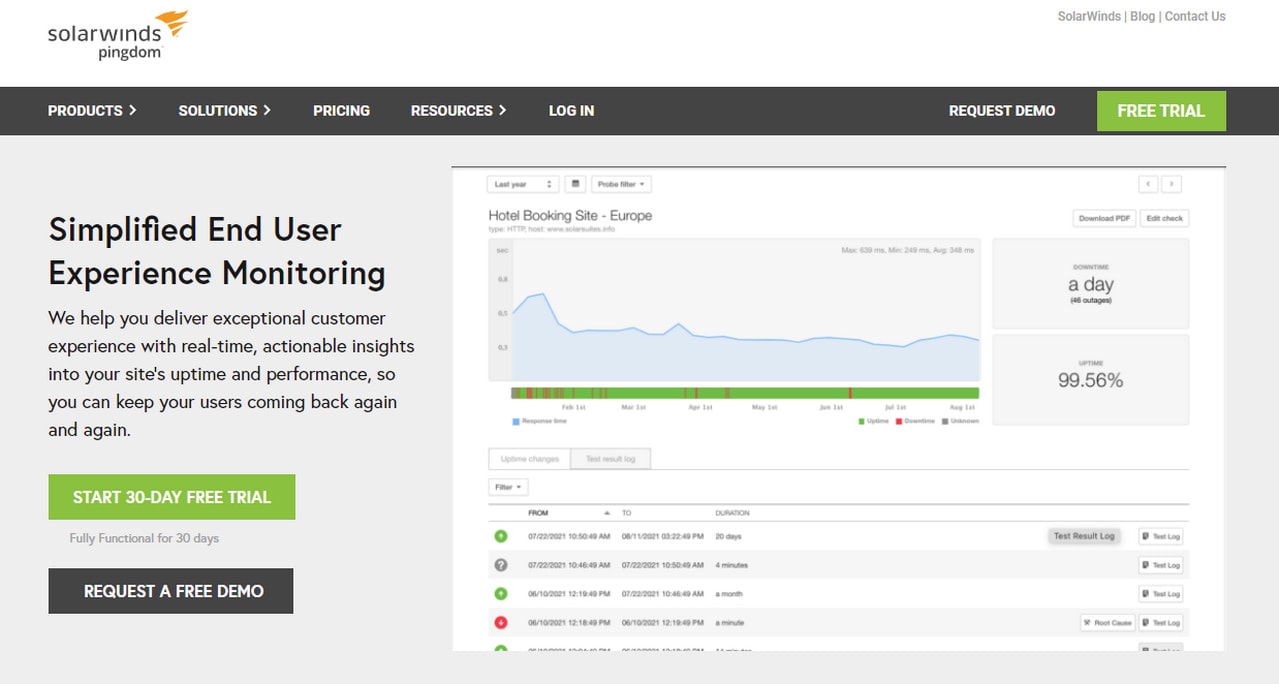 We could not help but include Pingdom because it is the acting elder in this niche. It has been in this area for decades; therefore, it knows a thing or two about monitoring stuff. It is a highly respected service that, by the way, constantly publishes statistics concerning the website's performance.
However, do not expect it to be as user-friendly as Pulsatic. This is a professional website monitoring platform with powerful functionality to meet the needs of digital marketers, web hosting providers, web developers, and IT/Web Ops.
It offers comprehensive web application performance monitoring based on insights from such channels as user experience, business transactions, metrics, traces, and log data. As if that wasn't enough, it can track a billion RUM page views and 30,000 uptime requests during one month, though it will cost a fortune.
Therefore, if you are up to just site uptime tracking and essential aspects of website performance, this platform can be intimidating and confusing, to say nothing about being expensive. However, if you are up to some complex analysis that your DevOp department will do, you should certainly give it a try.
UptimeRobot
Keeping an eye on more than 6,000,000 monitors for more than 1,5 million clients is an impressive statistic that proves to everyone that Uptimebot is a reliable platform trusted by users all around the world.
Among its main features, you will find:
Website monitoring.
SSL monitoring to track its expiration date.
Availability of network devices.
Port monitoring to check database server or any other crucial service.
Heartbeat monitoring to track background jobs or intranet devices.
Keyword monitoring.
It also comes with advanced features such as custom HTTP requests, multi-location checks (the platform has servers in all parts of the World, including the USA, UK, Australia, Brazil, Germany, and Japan), customized status pages, and maintenance windows.
The best part is, it offers a free plan: you can get 50 monitors with 5-minute intervals free. Although this is not enough to ensure your website's safety, it is still a great starting point in case you doubt whether you need a tracking device for your online estate or not.
Site24x7

At first sight, Site24x7 may strike you as a confusing and intimidating website with content overload; however, it is one of the most popular site uptime tracking platforms that has proven its validity.
Much like Pingdom, it revolves in this niche for decades, providing users not only with tools to monitor website performance but also with a regularly updated knowledge base with great insights on server's outages and performance and a range of helpful free tools like Website Ping Machine, Realtime Blacklist Check, DMARC Analyzer, etc.
Again, the platform is designed for professional teams and fully-fledged departments responsible for DevOps and IT Operations.
Among its main features are:
Monitoring of HTTPS, DNS server, FTP server, SSL/TLS certificate, SMTP server, POP server, URLs, REST APIs, and other web services.
Monitor from 110+ locations.
Synthetic Web Transaction Monitoring.
Monitor for Java, .NET, Ruby, PHP, Node.js, and mobile platforms.
Monitor for critical attributes of servers.
Real User Monitoring.
Public and Private Cloud Monitoring.
Network monitoring and much more.
In a word, the platform lives up to its slogan that states that it is an all-in-one monitoring solution with powerful functionality. Therefore, do not expect it to be free. Like Pingdom, Site24x7 has only premium plans, and the cheapest one will set you back €9 per month.
Uptrends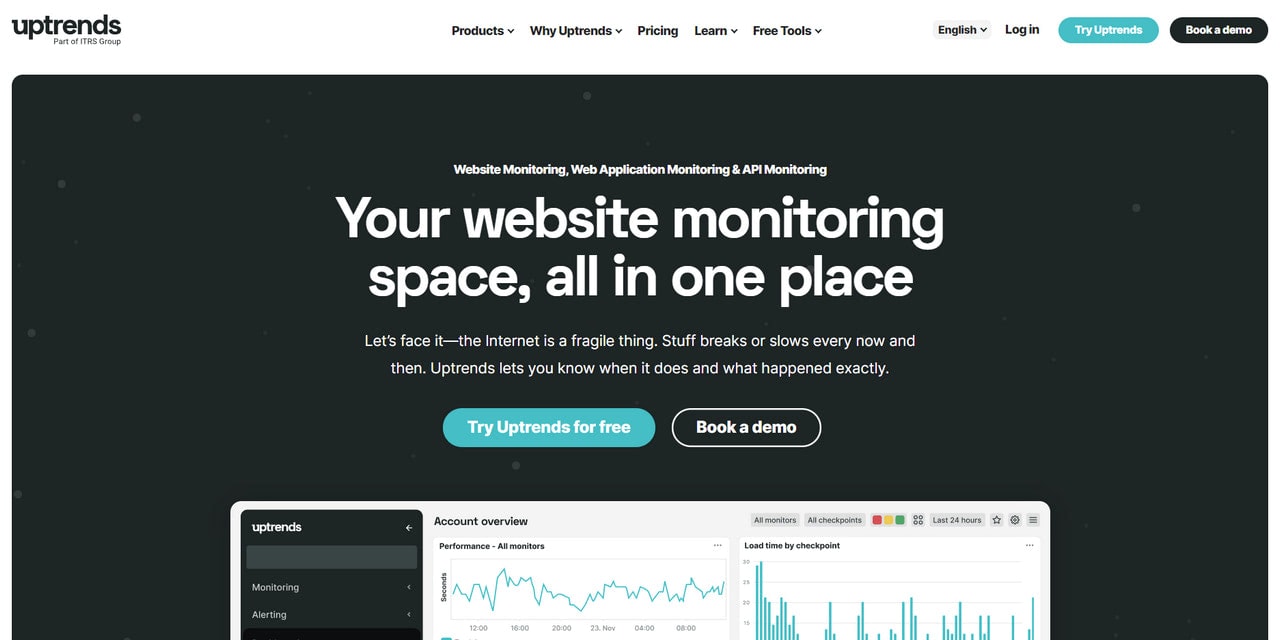 Although Uptrends serves more than 30,000 users (compared to 1,5 million users in UptimeRobot, this is increasingly small); nevertheless, it has one of the best feedbacks on the web. Therefore, you can certainly give this platform a spin if you decide to track your site's uptime.
It comes with great free instruments like website speed test, SLA and uptime calculator, IPv6 ping test, and some others. That means that the team is eager to provide their clients with an all-in-one solution system, even if they have a tight budget.
As for monitoring, the platform offers such features as:
Uptime monitoring from 200+ checkpoints scattered around the world.
Multi-step transactions monitoring.
Website performance monitoring with load-time alerts.
API monitoring.
Real User monitoring.
Synthetic monitoring.
Detailed waterfall reports and location-based performance metrics.
As for pricing, the basic plan starts with $15,47 per month – not the cheapest option giving it includes only ten uptime monitors that are fixed. As you may have guessed, there is no free plan. However, the team offers a 30-day free trial without any credit card requirement.
Uptime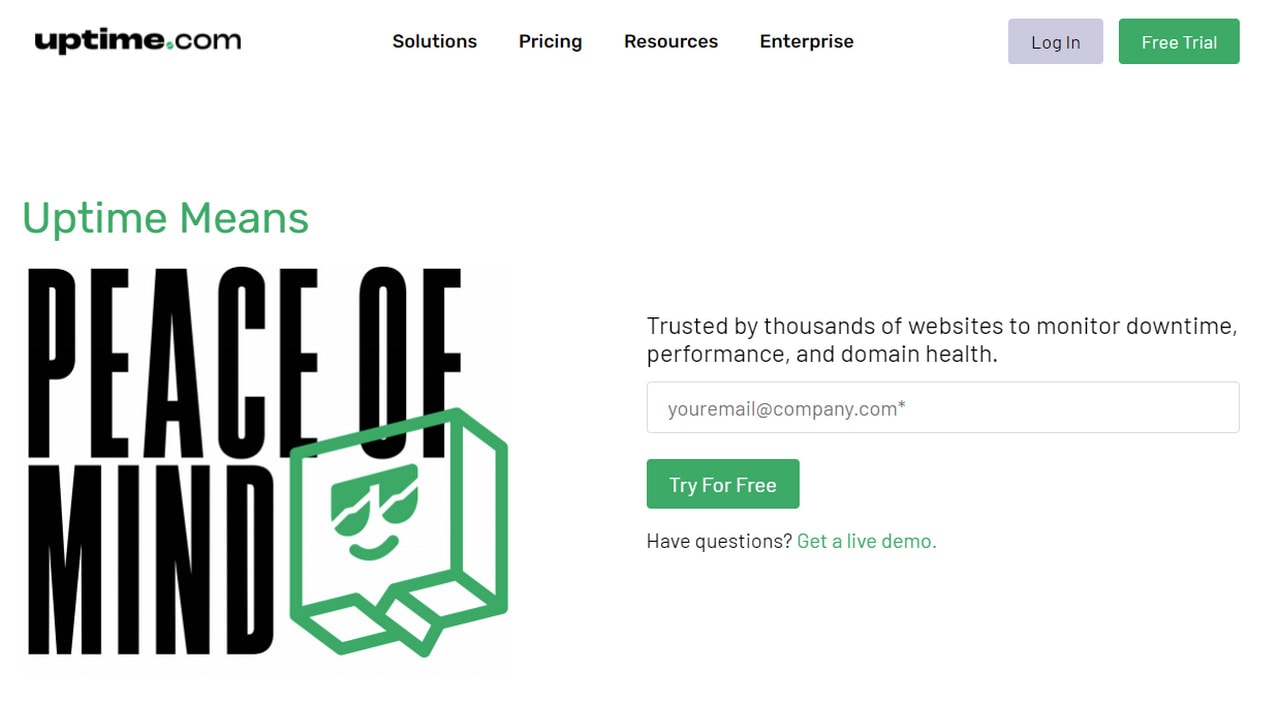 As the Uptime team puts it, their platform was created for peace of mind because it alerts you in case something happens to quickly react to the situation and avoid unexpected drops in sales that may give anyone a hard time.
It is already trusted by thousands of users around the globe, including such famous names as IBM and Microsoft.
Although it does not come with a vast bulk of features, nevertheless that is enough to monitor the overall performance of small- and mid-sized online businesses.
The platform is broken into 5 main clusters of functions:
Monitoring: track the performance, health, and downtime of public and internal websites. Plus, advanced synthetic monitor.
Alerting: send customized alerts when something goes wrong with any device or software.
Reporting: RUM, report on uptime and incidents, fully customized dashboards.
Status pages: create fully customized brand status pages and share private updates and data with teammates.
Integrations: connect the platform with DevOps tools.
The basic plan starts from $16 per month that includes 10 checks from only one location (US). Before jumping into this bandwagon, you can go on a free trial run for 21 days. No card is required.
Server Density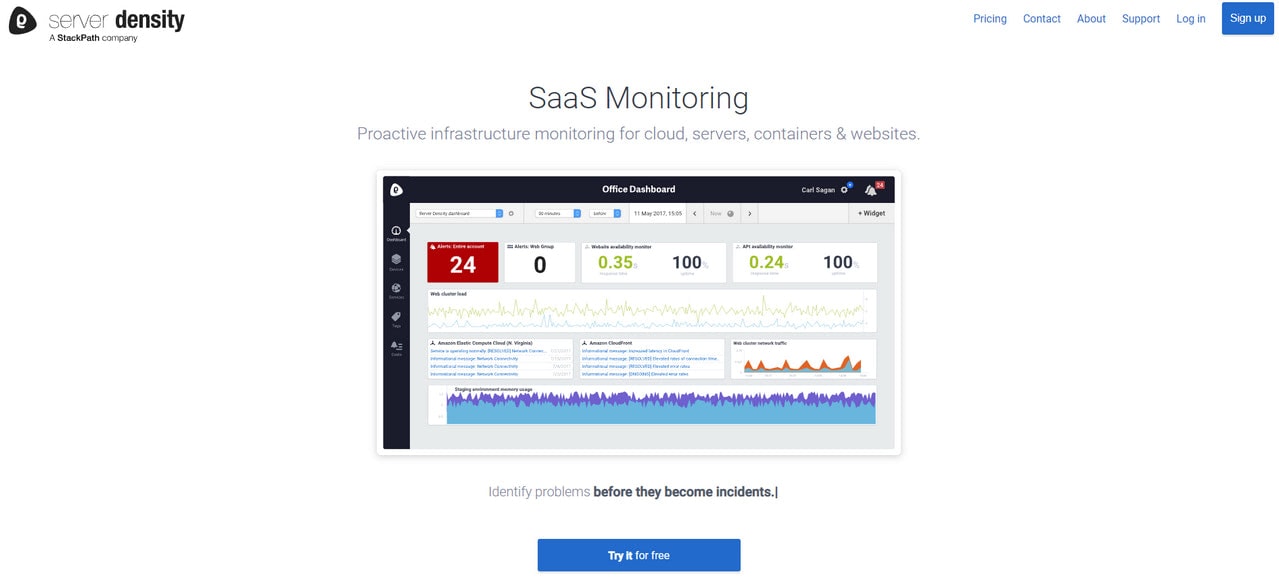 As an integral part of StackPath, an advanced web service platform for ensuring the security and speed of websites and servers so that they scale without let or hindrance, ServerDensity establishes itself as a reliable tracking partner for small and mid-sized businesses that prioritize server performance.
It comes with a handy dashboard, though non-tech-savvy users may find it a bit confusing due to numerous features and control panels.
The service also offers one of the best APIs for creating dashboards and configuring alerts using code.
Among its main features are:
Comprehensive monitoring for cloud, servers, and websites.
Container cluster monitoring.
Process monitoring.
Visualization and detailed troubleshooting.
Cross-platform monitoring for various operating systems.
Integration with Chef, Puppet, Ansible, and SaltStack.
Alert on any metric, errors, and other reported states.
There is no free plan and a free trial, unfortunately. However, the basic plan that starts at $10 per month and includes server monitoring and website performance tracking comes as a good deal.
StatusCake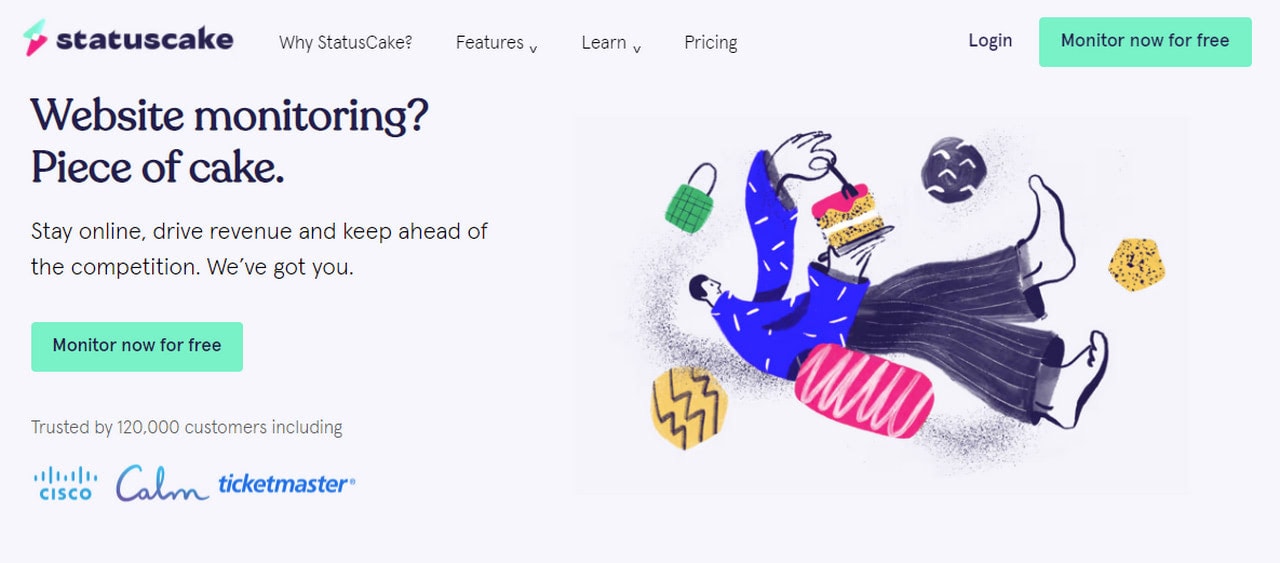 If you do not need all those fancy features that previous platforms offer, then you should certainly give a try to Statuscake. The platform focuses on monitoring, thereby providing only integral functionality for tracking errors on the website and downtime on the server.
Its central sphere of expertise covers:
Website monitoring that includes uptime, page speed, domain expiry, SSL certificate status.
Server monitoring that includes custom thresholds of RAM, CPU, and disk usage.
Instant alerts.
Not much; nevertheless, this is enough for single entrepreneurs and blog owners. As for pricing, you will be glad to know that the platform offers a free plan that includes 10 monitors with 5-minute intervals.
Sematext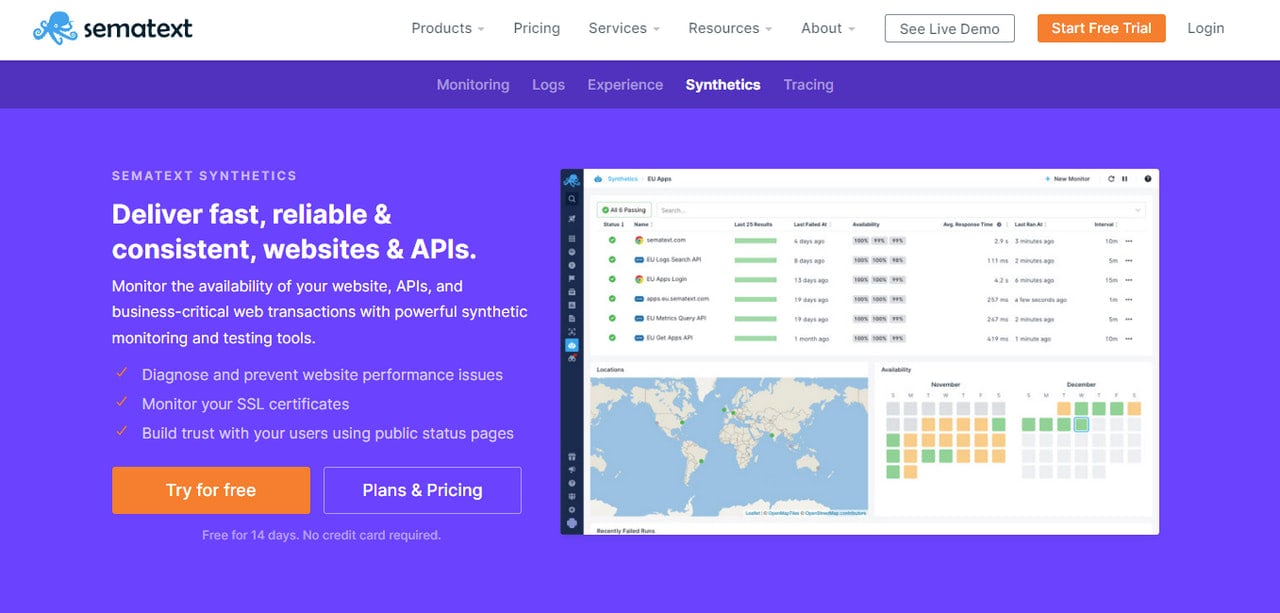 Although Sematext does not offer unique features or comprehensive functionality compared to Pingdom, it is still a perfect alternative to all the listed above if you run a blog, small shop, or mid-sized business.
More so, the pricing plans will delight you since the basic option starts at $9 per month for experienced users and $2 per month for the synthetic monitor. In addition, there's a 14-day free trial period.
Among its main features are:
Uptime monitoring.
API monitoring.
Monitor from multiple locations.
Notifications through various channels, including email, Slack, WebHooks.
Website performance monitor.
SSL/TLS certificates monitor.
A detailed report based on metrics, logs, and user experience.
Uptime Monitor by Hetrix Tools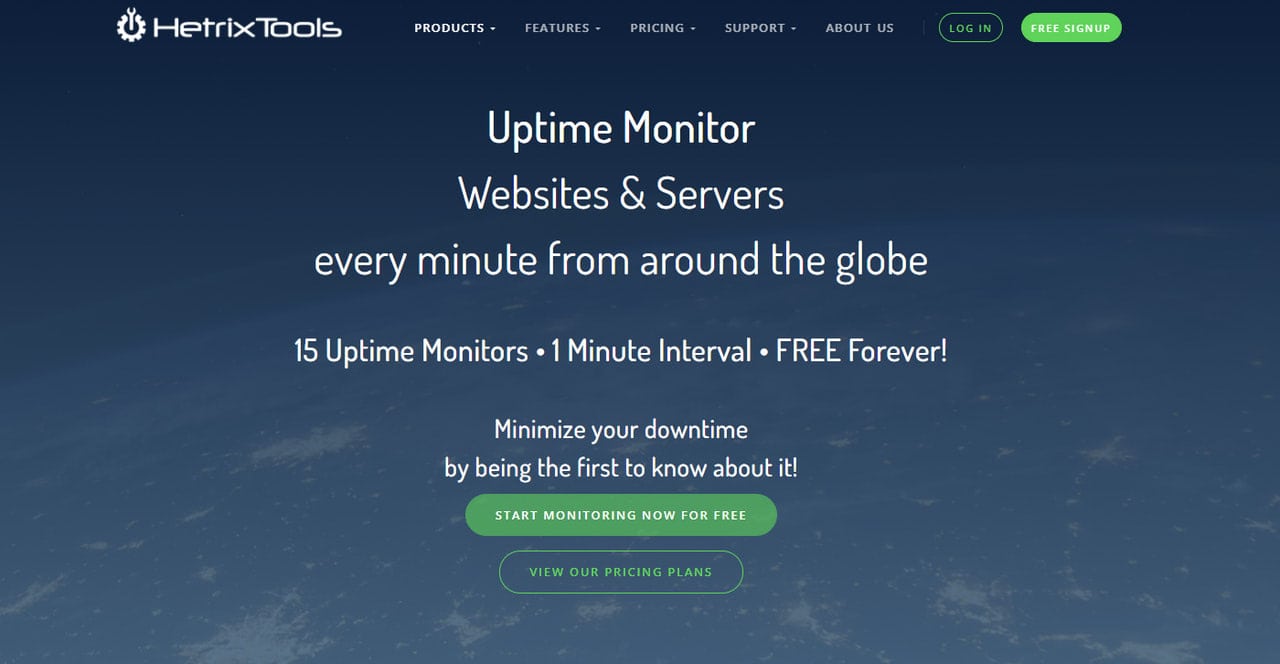 Again, this platform is not an all-in-one solution, nor is it packed with unique features. It is just a regular uptime monitor service that does what it says.
Its key feature lies in its fantastic free plan that includes 15 uptime monitors with a 1-minute interval that is a great way to test the ground and even collect some data about your website performance.
A simple dashboard, only essential functionality, and a clean interface are its other benefits. Use this platform for:
Uptime monitor from 12 popular locations.
Outage detection and diagnostics.
Domain expiration monitor.
SSL monitor.
API access.
Public status pages.
Conclusion
You might not even know that, but downtime is an inevitable event that your digital estate, whatever small or big, faces every single year. It ruins reputation, scares away customers, increases bounce rate, and decreases organic traffic by downgrading your position in the search. As an end-user, you can do nothing because it happens on the third-party system.
However, it still does not mean that you should suffer these drastic consequences. Even though you cannot avoid outages, you can still cushion an impact. For instance, you may notify your users about temporary technical problems, apologize for the inconvenience, or simply fix the problem within the shortest time, creating an illusion for your visitors and loyal customers that you have a properly functioning website.
To do this, you need a reliable site uptime monitor service that will ping your website, alert you about problems immediately and provide a thorough report with hints on how to improve your online presence. There are 100+ of them in the wild. We have listed the most popular options: some are incredibly advanced all-in-one solutions, while others are primitive single-task-oriented platforms.
So, where is the middle ground? As we have already mentioned, if you are up to a reliable pocket-friendly solution that provides all the essentials in this niche, then it is Pulsetic.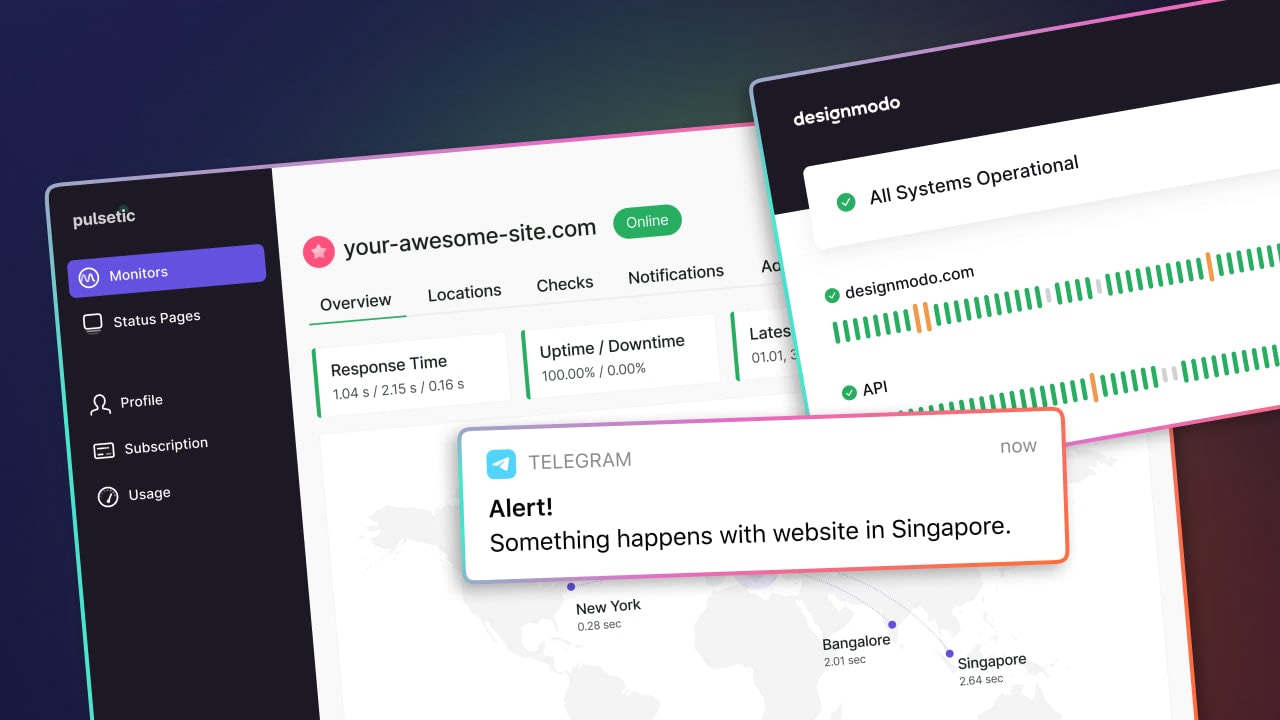 Pulsetic outperforms the competitors on a number of things, for instance:
The free plan is a great starting point that provides more industry-specific benefits than similar options.
The premium plans are more affluent in features than compared to similar price tiers.
The pricing is not just pocket-friendly, but it is one of the lowest in the market.
The alert system is faster, more efficient, and more diverse.
The platform has unique features like subscribers' notifications and a fully-fledged builder to create stylish status pages.
The dashboard is hassle-free, intuitive, and user-friendly that is ideal for non-tech-savvy entrepreneurs.
Like what you're reading? Subscribe to our top stories.