Disclosure: This content is reader-supported, which means if you click on some of our links that we may earn a commission.
In the era of digitalization, it's vital for every business to have an online presence. Web hosting, a service that allows individuals, businesses, and organizations to make their website accessible via the Internet, is considered one of the most important investments to put businesses online for increasing brand awareness and customer engagement.
This article focuses on the web hosting needs of small businesses. If you are looking for the best web hosting service provider available in the market today, then depending on their current as well as future needs along with the budget, small business owners can choose different types of web hosting services.
Types of web hosting-
There are three main types of web hosting-
Shared hosting is the most basic form of hosting, where multiple different websites share the same physical server and its resources (CPU, RAM, storage, etc.). It is the most budget-friendly option for hosting a website as the cost gets split among all multiple users.
Shared web hosting is suitable for those running a small business or Startup and wants to keep costs down. Most importantly, it is managed and flexible, meaning users can upgrade to superior plans as their business/website grows.



Virtual Private Server (VPS) hosting
Businesses can also opt for a virtual private server (VPS) hosting that sits in between the shared and dedicated hosting. As the name suggests, the VPS setup uses a virtualization technique to allow a segmented shared server to operate independently with dedicated resources. To simply put it, with VPS hosting, a physical server is partitioned into multiple zones, and users have more control over the system resources.
An added benefit of VPS hosting is that it is scalable. That means users can increase the number of resources allocated to them without affecting other website owners on the network. VPS hosting is ideal for websites going through rapid growth and expansion as they require more resources than provided by shared hosting plans, and dedicated hosting is too expensive for them.
If you have highly specialized needs regarding resources and performance, shared hosting might not be suitable for your website.
This is where dedicated hosting comes into the picture, and it's always better to place your trust in any of the top 10 hosting companies.
It involves using dedicated servers and resources -bandwidth, storage space, and speed – for each client, but all these perks come with a premium price tag. Since dedicated servers are not shared with any other users, dedicated hosting provides ultimate security and performance, and it is suitable for high traffic websites.
Apart from these, there are other types of hosting available in the market today. These include- Reseller hosting, Cloud hosting, Colocation hosting, and WordPress hosting. While each type of hosting caters to the needs of a wide range of businesses, shared hosting and cloud hosting are considered the best options for small businesses and individuals.
How to pick the best web hosting for your business?
Before finalizing a web host for your website, you need to decide what kind of hosting your website needs- shared, VPS, dedicated, cloud, or others currently available in the market. We have already discussed the various types of web hosting and what type is suitable for small business websites.
The most crucial step is to assess your website's requirements and, of course, your budget. Cost is one of the main focuses when shopping for a web hosting plan.
The next step is looking at the offerings of some hosting companies and comparing them.
When choosing between hosting providers, you need to ensure whether the web host supports a variety of hosting products and services that can meet your website's ever-changing needs.
Choose a host that provides an uptime guarantee and the best possible speed along with essential features such as one-click installation, up-to-date security, upgrading options, money-back guarantee, and 24/7customer support.
Other key factors you must consider are- RAM, storage space, bandwidth, email accounts, domain names, operating systems- Windows or Linux- among other things. Thereafter, based on your needs, choose the best web host and the plan/package for the growth of your website and business.
Top 10 Best Web Hosting Providers for Small Businesses in 2021
Here are the top 10 web hosting companies for small businesses in 2021:

Bluehost, one of the best web hosting for beginners and recommended by WordPress.org, Bluehost offers shared VPS, dedicated, and WordPress hosting plans with different features and prices.
Bluehost shared hosting basic plan allows for hosting a single website and 50GB of SSD storage. Other higher plans have unlimited SSD storage and unlimited websites.
If you are from Indian Geo and want to check out "INR" as the currency, then you can check the Bluehost India Website.
All plans include a domain name, an SSL certificate, USD100 Google Ads credit when you spend your first USD25, resource protection, 24/7 customer support, and more features.
The company's shared hosting platform is managed, meaning the service provider will take care of the server management and platform patches, and users can focus on their core operations.
As for the dedicated hosting plans, the standard package includes 4 CPU cores, 4GB of RAM, 500GB (Mirrored) Storage, 5 TB Bandwidth, and 3 IP Addresses. You will get a free SSL certificate, storage upgrades, full root access, a 30-day money-back guarantee, and advanced features such as multi-server management.
Pricing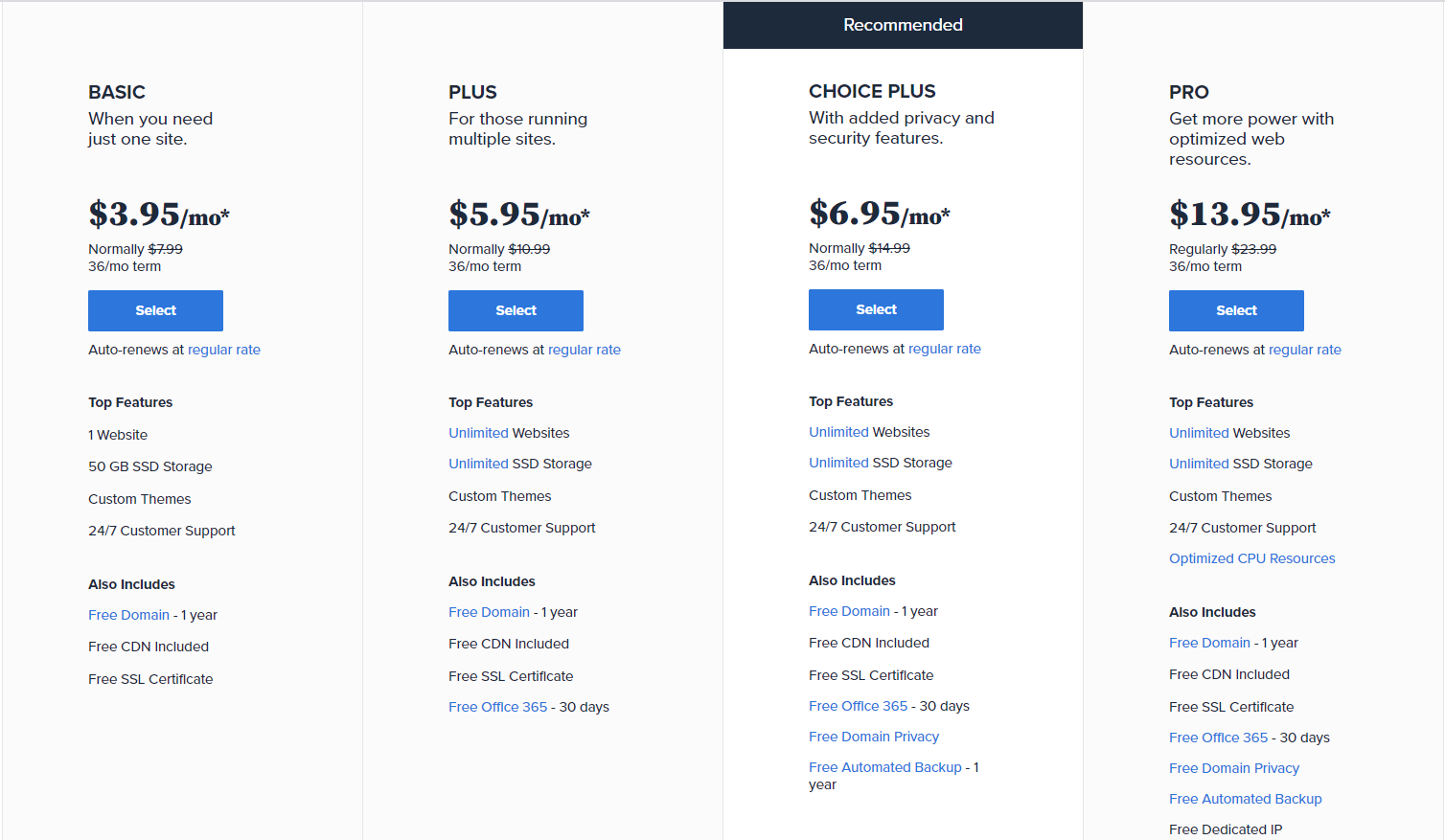 To know the pros- cons and each detail, read our article "Bluehost Reviews".
Shared hosting
Basic: USD3.95/month (36 months)

Plus: USD5.95/month

Choice Plus: USD6.95/month

Pro: USD13.95/month
Dedicated hosting: USD79.99/month (standard)
VPS hosting: USD19.99/month (standard)
Check more detail on– BLUEHOST

Hostinger is one of the most affordable web hosting services providers today, and it offers shared hosting, WordPress hosting, email hosting, eCommerce, and VPS hosting.
Its business shared hosting plan is optimized for small businesses and includes unlimited databases, unlimited bandwidth, 100 websites, 100GB SSD storage, Free Domain, SSL, Google Ads Credit, and Daily backups, among other features.
The starter plan includes 1 website, 10GB SSD storage, 2 databases, an SSL certificate, 100GB bandwidth, and more features.
All plans provided by the company offer 24/7/365 support, 30 days money-back guarantee, 99.9% Uptime Guarantee, and DNS management.
Hostinger is one of the best web hosting for entrepreneurs as it provides the flexibility to upgrade to a higher-tier plan with extra resources easily.
Pricing Shared hosting
Starter: USD0.99/month / USD2.99/month on renewal

Premium: USD2.59/month / USD4.99/month on renewal

Business plan: USD3.99/month / USD8.99/month on renewal
The company's cloud hosting plans start at USD9.99 per month.
The Startup package includes 300 websites, 100GB SSD storage, 3GB RAM, 2 CPU cores, daily backups, unlimited bandwidth, unlimited databases, dedicated IP address, free migration, free SSL, and more benefits.
Hostinger data centres are in eight countries, including the US, the UK, Netherlands, Indonesia, Lithuania, Singapore, Brazil, and India, allowing users to pick the one that is geographically located nearby their primary audience for the best speed.
Hostinger provides services to 29 million customers in 178 countries globally. It is also one of the best web hosting for small businesses in the UK.
Check more detail on– HOSTINGER
DreamHost is a Los Angeles-based company that provides Linux-based web hosting services. With nearly 25 years of experience in the business, the company currently hosts over 1.5 million websites for small businesses and developers, among others.
DreamHost provides monthly as well as annual plans for the shared, VPS, dedicated server, WordPress and could hosting services. The company offers utilizes SSDs, a custom-built control panel and offers a 100% Uptime Guarantee with all of its hosting plans.
With all its shared hosting plans, DreamHost offers unlimited bandwidth and storage, free domain name registration and SSL certificate, 24/7 customer support and a 97-day money-back guarantee. DreamHost shared hosting is offered via two plans – Shared Started and Shared Unlimited.
As for WordPress hosting, the company offer three types of services:
WordPress Basic – integrated with Shared hosting (USD2.59-USD3.95/mo)

DreamPress – Managed WordPress hosting (USD16.95-USD71.95/mo)

VPS WordPress – for isolated resources (USD10-USD80/mo)
To know the pros- cons and each detail, read our article "DreamHost Reviews".
It is worth mentioning that DreamHost is one of the web hosting services provider officially recommended by WordPress.org. All its WordPress hosting plans include – unlimited bandwidth and storage, privacy protection, free Migration, 24/7 WordPress experts support, daily automatic backups and more features.
Check more detail on– DreamHost

From shared to dedicated and VPS, HostGator provides a wide variety of hosting plans and options.
For shared hosting, the starter package includes a single website, unmetered bandwidth, a free SSL certificate, one free domain, Google Ads and Bing Ads credit, and more features.
The Business plan offers unlimited websites, a free Positive SSL upgrade that secures a domain and subdomain, free dedicated IP and SEO tools, in addition to the features available in all other plans.
All plans offer a 99% uptime guarantee, 24/7/365 support, 45-day money-back guarantee, free website, and domain transfers, cPanel access, USD150 Google Ads credit, one-click WordPress installs, unlimited email accounts, and unlimited storage, among other features.
Pricing (introductory)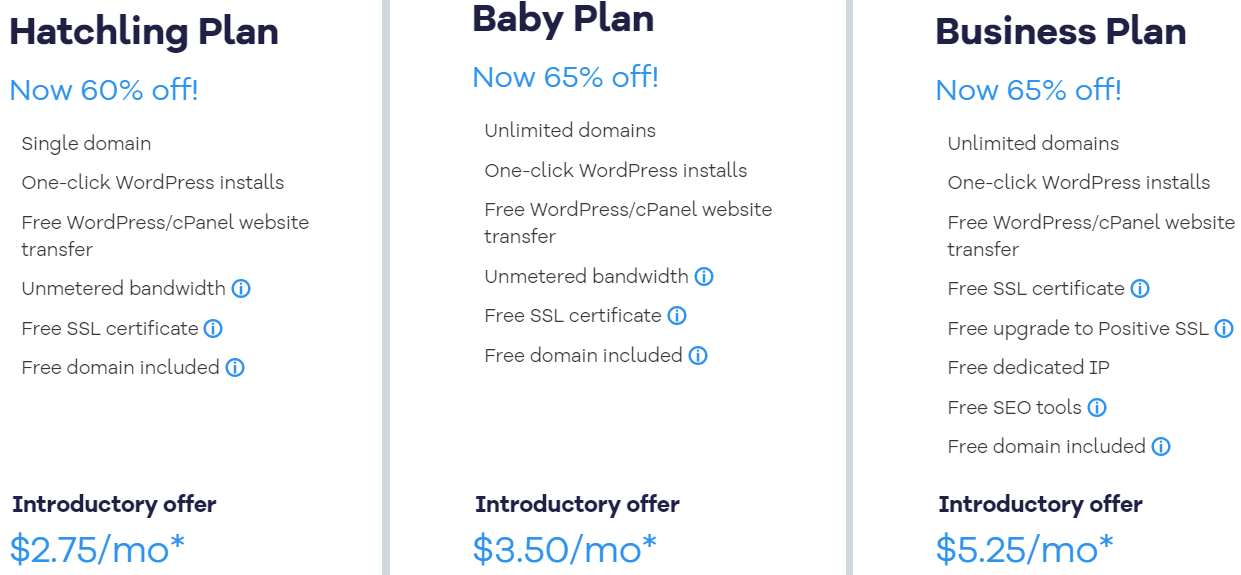 To know the pros- cons and each detail, read our article "HostGator Reviews".
Shared Hosting
Check more detail on– HOSTGATOR

Liquid web provides fully managed hosting services for cloud servers, VPS, and dedicated servers with 100% uptime. For those unaware, fully managed hosting service providers handle every single aspect of the server setup, monitoring, and maintenance on behalf of the clients, ensuring that it is secure and up to date.
Fully managed hosting is Liquid Web's top-of-the-line service for those seeking a higher-touch experience from the very beginning. The company works closely with its clients to help them choose the right hosting plan based on their business operations and goals.
Liquid Web's managed VPS hosting starter plan for Linux servers offers two CPUs, 2GB RAM, 40GB SSD disk space, 10TB bandwidth, while the top plan gives 16GB RAM, 8 CPUs, 200GB SSD storage, 10TB Bandwidth, and other features.
For Windows servers, the starter package offers 4 CPUs, 4GB RAM, 100GB SSD, and 10TB bandwidth.
The plans also provide Cloudflare CDN, DDoS attack protection, a secure dedicated IP address, integrated firewall, Server Secure protection, unlimited Sites with InterWorx, and many other features.
Pricing (basic plans)
Managed VPS hosting
Linux: USD59/month or USD35/month for 12 months

Windows: USD129/month or USD80/month for 12 months
Liquid web provides a 100% Network Uptime Guarantee. The company promises a credit for 10 times (1,000%) the actual amount of time the customers were affected if it fails to meet its service-level agreement (SLA) commitment.
Check more detail on–

LI

QUID WEB

GreenGeeks, as the name suggests, provides eco-friendly web hosting services with hundreds of features for an affordable price.
For instance, GreenGeeks Web Hosting Lite plan for small websites allows for hosting one website and provides unlimited web space, unmetered data transfer, free SSL certificate, a free domain name for one year, unlimited email account, unlimited databases, and more.
The Premium plan for small businesses includes unlimited websites, unlimited webspace, free Premium SSL, and 4x performance. All plans include integrated CDN, advanced security, LSCache support, cPanel & Softaculous, 1-click installer, Drag & Drop Website Builder, 300% Green Energy Match, WordPress Installer/Updates, free nightly backup, advanced firewall protection, 24/7 technical support, and a 30-day money-back guarantee.
Pricing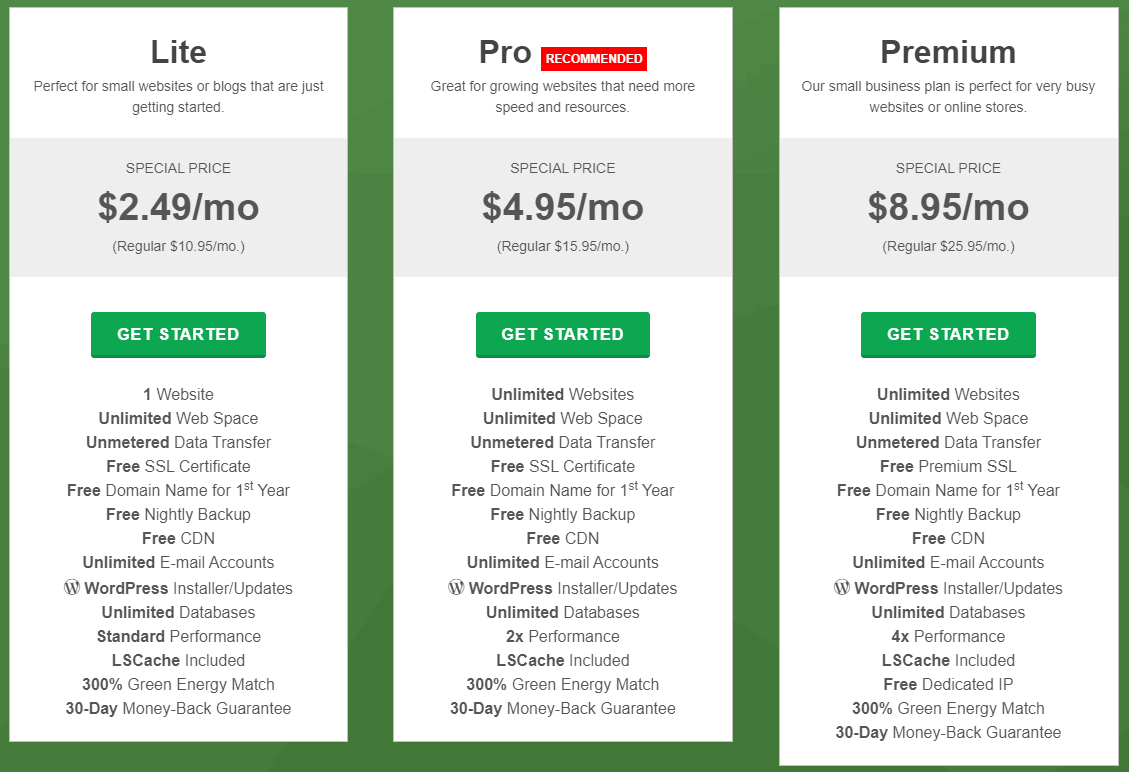 Lite: USD2.49/month

Pro: USD4.95/month

Premium: USD8.95/month
GreenGeeks also provides Reseller hosting, dedicated servers, and VPS hosting solutions. GreenGeeks users can upgrade or downgrade their web hosting account to any of the company's services. If you happen to be the kind of person who really cares about the environment, then GreenGeeks is the best green web hosting provider for you.
Check more detail on- GREENGEEKS

InterServer provides shared web hosting, dedicated server, and VPS hosting plans for small business owners, e-commerce websites, and more.
For instance, InterServer' s shared hosting is offered in two forms-
Standard web hosting (Linux)

Windows web hosting (ASP.net)
The standard web hosting package includes unlimited ULTRA SSD storage, unlimited email accounts, unlimited apps, 450+ cloud apps, one-click installs for 461 scripts, cPanel, free SSL certificates, free website migration, and Intershield protection, among others.
The standard package offers a price lock guarantee, which means the price a consumer signs up for with InterServer is their guaranteed lifetime locked-in price, with no special conditions.
On the other hand, the Windows web hosting package provides unlimited storage and transfer, 25 websites, unlimited email, weekly backups, guaranteed email, unlimited FTP accounts, free Cloudflare CDN, and more features. Both packages provide 24/7 support and 30 days money-back guarantee.
InterServer also provides affordable cloud VPS hosting services.
The Linux-based VPS hosting basic plan includes 1 CPU core, 2048MB memory, 30GB SSD storage, 1TB transfer, whereas the highest plan includes 16 CPU cores, 32768MB memory, 480GB SSD storage, and 16TB transfer. Cloud VPS hosting benefits have– remote data access, the option to customize resources (CPU cores, memory, storage, transfer, etc.), self-healing hardware, remote backup service, and a 99.9% uptime guarantee, among others.
The Windows VPS hosting starter plan includes 1 CPU core, 2GB memory, 30GB SSD storage, and 2TB transfer, while the top-tier plan provides 16 CPU cores, 32GB memory, 480GB SSD storage, and 32TB transfer. With Windows VPS hosting, users get many benefits like 24/7 remote access to Windows desktop, Plesk control panel, enhanced security, resource customization, regular data backup.
Pricing:
Shared Web hosting
Standard Web Hosting: USD5/month

Windows ASP.net Web Hosting: USD8/month
VPS hosting
Windows VPS Hosting: USD10/month (basic) and USD160/month (top)

Linux VPS Hosting: USD6/month (basic) and USD96/month (top)

SiteGround offers shared hosting, reseller, cloud, enterprise, and other hosting services to over 2 million customers worldwide.
The SiteGround shared hosting has three different types of plans-
Each plan offering unmetered traffic, free SSL, daily backup, free CDN and email, unlimited databases, managed WordPress, 30-Days Money-Back, and 100% renewable energy match.
Pricing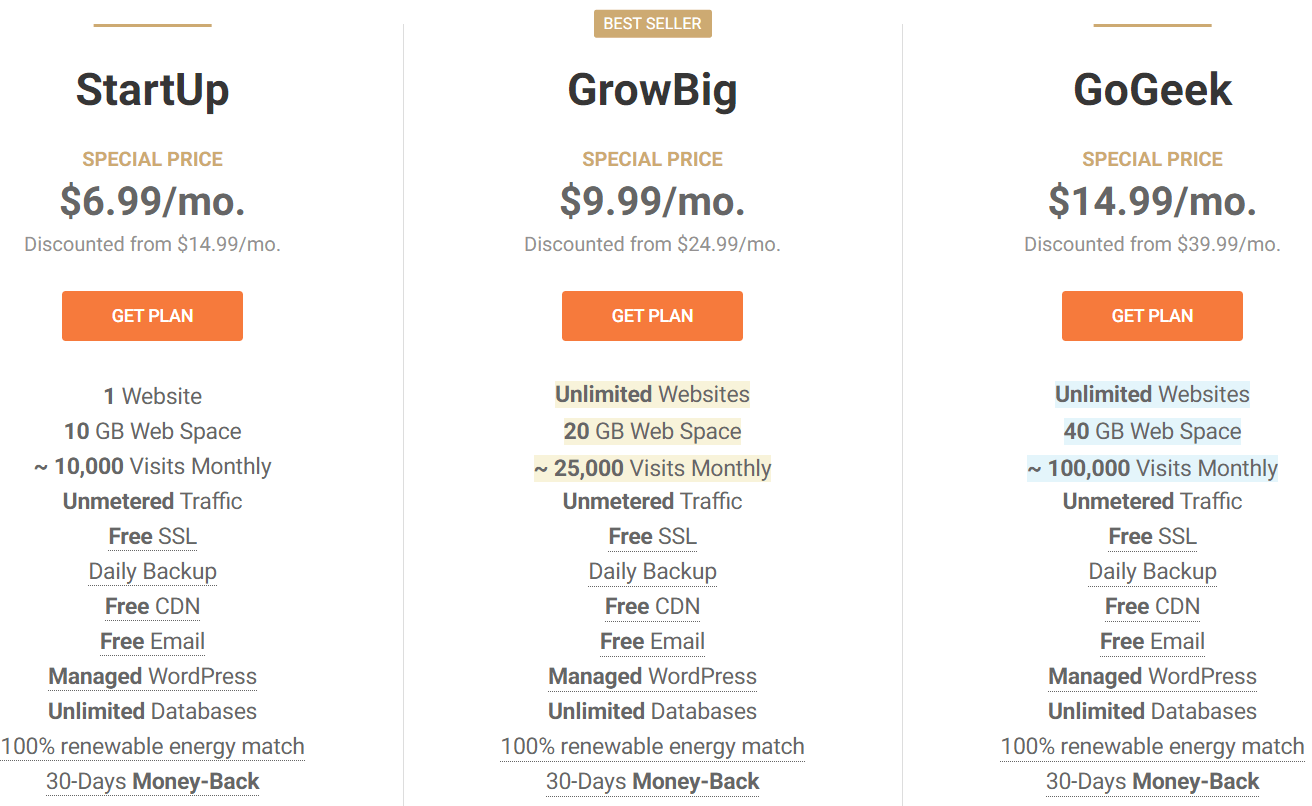 To know the pros- cons and each detail , read our article "SiteGround Reviews".
Shared hosting
Startup: USD6.99/month

GrowBig: USD9.99/month

GoGeek: USD14.99/month
The company's fully managed cloud hosting Entry package offers 3 CPU cores, 6GB memory, 40GB SSD space, 5TB data transfer. In contrast, the top Superpower package includes 9 CPU cores, 12GB memory, 120GB SSD space, and 5TB data transfer. Further, customers have the option to build their custom cloud with up to 33 cores, up to 130GB memory, up to 1TB SSD space, and 5TB data transfer.
Each plan offers a dedicated IP, a free Cloudflare CDN service, SSL certificate, direct SSH access, daily backups, and collaboration tools.
The main benefit of fully managed cloud hosting is that users do not have to worry about the server uptime, maintenance, and monitoring as the provider will take care of it.
Pricing
Fully managed cloud hosting
Entry: USD80/month

Business: USD120/month

Business Plus: USD160/month

Superpower: USD240/month

Custom Cloud: USD2,100/month (top)
Check more detail on- SiteGround

BigRock is one of the best web hosting for small business in India, and it powers over 6 million domains globally.
The company provides shared hosting on Windows and Linux as well as for reseller hosting, cloud hosting, and specialized hosting, including WordPress hosting, CMS hosting, ecommerce hosting.
The Windows Shared Hosting basic plan offers 20GB space, 100GB transfer, free SSL certificate, and 5 emails and the "top plan" includes unmetered space, unmetered transfer, unlimited emails, and free SSL.
All Windows Shared Hosting plans come with email services through Plesk with MailEnable and Horde integrated.
Pricing
Essential: Rs 59/month for 10 years term

Premium: Rs 399/month for 10 years

Business: Rs 449/month for 3 years

Pro: Rs 599/month for 3 years
The Linux Hosting starter plan includes 20GB of space, 100GB transfer, 5 emails, SSL certificate, and clients can host one website.
The "Pro plan" allows for hosting unlimited websites, and the package includes unmetered space and bandwidth, unlimited email accounts, and a free SSL certificate.
Pricing
Starter: Rs 99/month (5 years term)

Advanced: Rs 179/month (5 years term)

Pro: Rs 319/month (3 years term)
Check more detail on- BigRock
Both Windows and Linux hosting plans offer 99.9% uptime with best-in-class support and a 30-day Money Back Guarantee.

FastComet is one of the best web hosting for small business in Australia. The company provides shared hosting, fully managed cloud VPS hosting, fully managed dedicated CPU servers, and WordPress hosting.
As for shared cloud hosting, the basic plan includes a single website, 25,000 monthly visits, one free website transfer, cPanel & Softaculous, 15GB SSD space, 2 CPU cores, 2GB RAM, unlimited databases, and email accounts, daily and weekly backups and BitNinja server security, among other features.
The top package includes multiple websites, 100,000 monthly visits, 35GB SSD Space, 6 CPU cores, 6GB RAM, up to 3 free website transfers, daily and monthly backups, etc.
With each plan, FastComet offers:
24/7 priority support

A free drag & Drop Site Builder

1-click WordPress install

Free apps install and update
Pricing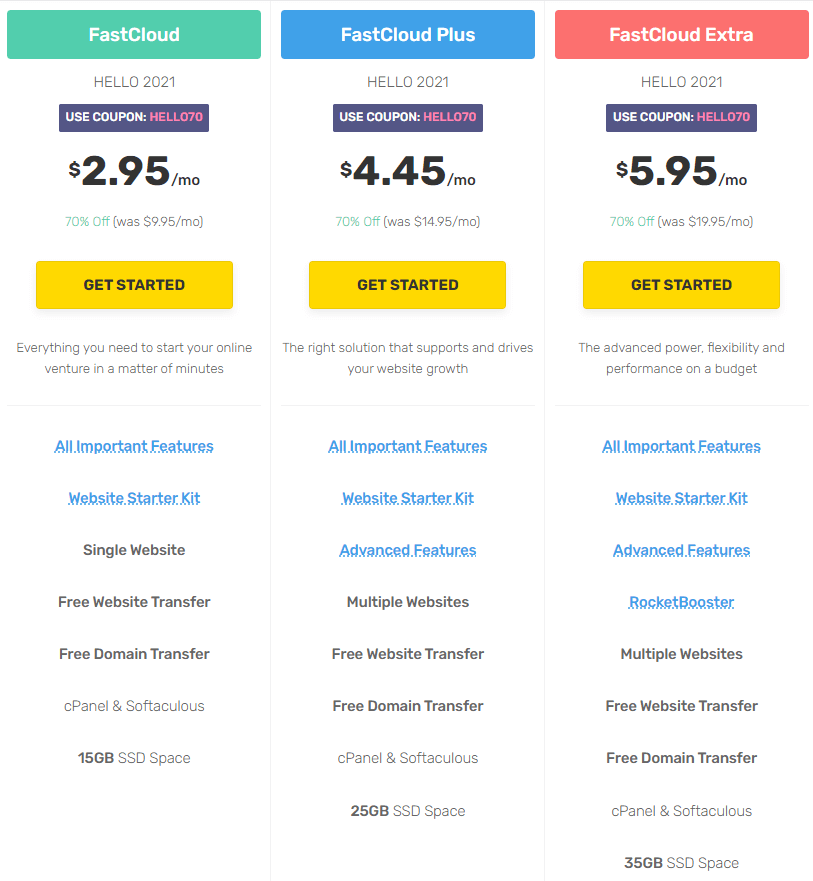 Shared cloud hosting
FastCloud: USD 2.95/month

FastCloud Plus: USD4.45/month

FastCloud Extra: USD5.95/month
Additionally, FastComet provides 45-day money-back guarantee for Cloud Shared Hosting and 7 days for VPS/DS Servers. The company has 11 data centres located in 9 countries, including India, the UK, Australia, Japan, Singapore, Germany, Netherlands, Canada, and the US (3).
Check more detail on- FastComet
Conclusion
Tip: For small business owners who are just starting and have a small budget, it's good to start with a shared hosting plan and then migrate to superior plans-VPS or dedicated- as per your website's requirement.
Many web hosting service providers also offer the flexibility to upgrade or downgrade hosting plans at any time based on your needs as well as a money-back guarantee (limited period, say, 30-days or 45-days), so if the service does not satisfy you, your payment will be refunded.
*Uptime: It is the amount of time that your website is available and fully operational and is expressed as a percentage. Many web hosting service providers guarantee at least 99.9% uptime, which means their servers are down 0.1% of the time, on average.
Also Read:-
https://www.devdiscourse.com/article/technology/1404619-top-10-best-web-hosting-for-small-businesses-in-2021